erinn von wilar
Pedigree - Title(s) * Litter(s)
Erinn came to Luxembourg in 2001. She was a lovely puppy, adopted as her own by Sharon from the first moment she entered the house.
Shown in Luxembourg, she became Youth Champion, then Luxembourg champion. She was also international, German and V.D.H. champion and Belgian too.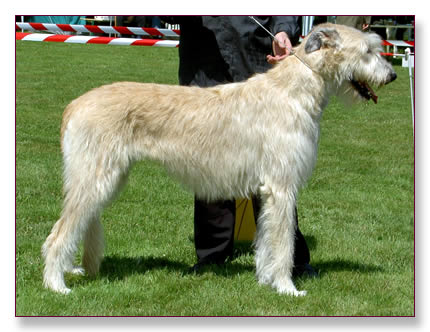 She became German Bundessieger, a very famous title we were very proud of her.
Erinn gave us three beautiful litters. She was bred to Belzebuth of Our Valley, Wolfhouse Scarlatti and Marvin von den Sarrazenen. Out of this last litter we kept her daughter Escada.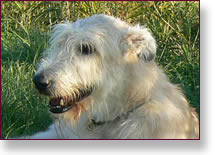 Pedigree

Erinn von Wilar

24.07.2001 - 21.11.2008

Hold The Line Sagittarius
Neverton Sagittarius
Cleaseac Carusso
Glenfils Coburn
Cleaseac Chopsuey
Iris vom Fränkischen Hof
Ard Ri Gillie
Bang-P's Runa
Ulvsholms Kenna
Ulvsholms Florican Worthy
Ulvsholms Alpha Allworthy
Ulvsholms Torey
Ulvsholms Yaeltacht
Ulvsholms Oakland Baron
Ulvsholms Messalina
Chevy von Wilar
Lorbas von den Sarrazenen
Demian von den Sarrazenen
Zeno von der Oelmühle
Norrigu von den Eichelwiesen
Aoibhell von den Sarrazenen
Ben Babaloo von den Eichelwiesen
Faye von den Eichelwiesen
Alina von Wilar
Juster von den Sarrazenen
Eoghan von den Sarrazenen
Norrigu von den Eichelwiesen
Nena von der Oelmühle
Zeno von der Oelmühle
Quebella von der Oelmühle
Ch. International - Belgium - German - Luxembourg - VDH - DWZRV - Lux. Junior
Belzebuth of Our Valley x Erinn von Wilar
01.07.2005
4 M - 2 F
Caesar of Kirld Ground Castle
Caramis of Kirld Ground Castle
Cedric of Kirld Ground Castle
Connor of Kirld Ground Castle
................................................................
Cherry of Kirld Ground Castle
Citron of Kirld Ground Castle
Wolfhouse Scarlatti x Erinn von Wilar
20.10.2006
2 M - 4 F
Darvin of Kirld Ground Castle
Don Meks of Kirld Ground Castle
................................................................
Deirdre of Kirld Ground Castle
Dina of Kirld Ground Castle
Djanis of Kirld Ground Castle
Dolly Dew of Kirld Ground Castle
Marvin von den Sarrazenen x Erinn von Wilar
20.11.2007
1 M - 2 F
Eoghan of Kirld Ground Castle
................................................................
Eireen of Kirld Ground Castle
Escada of Kirld Ground Castle
---
Duerfstrooss 40 • L-9759 Knaphoscheid • Grand-Duché de Luxembourg
Tel. 00 352 92 15 37 • Fax 00 352 26 91 33 53 • email
---