sharon von den sarrazenen
Pedigree - Title(s) * Litter(s)
On Febuary 21th 1993 my sweet Daireen died, her vaccination did not work and she got a very virulent distemper. The same day Sharon was born. Marisa offered me this wonderful bitch.
Sharon felt at home very quickly and Sammy was happy to have a new playmate. Sharon soon became the leader of our hounds. And so did she till the end of her live.
As many other dogs Sharon wasn't fond of shows, she preferred coursing and playing. Nevertheless she got two titles, she was Luxembourg and international champion.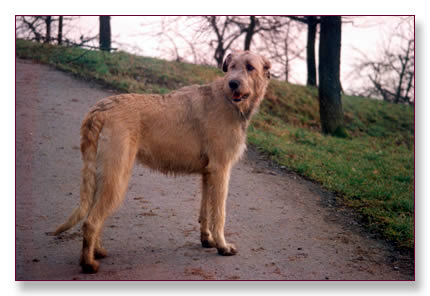 Sharon was bred to Lorbas von den Sarrazenen and Teddy of Kirld ground Castle. Out of this litter we kept her daughter Nicquy. Sharon was a very good mummy, liked to play with her children and learned them much silly thing too.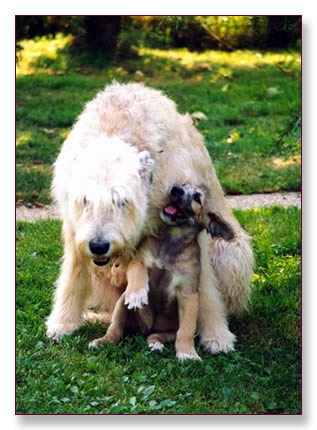 She was nine years when she left us, but till the end she was a powerful handsome old lady.
Pedigree

Sharon von den Sarrazenen

21.02.1993 - 07.10.2002

Eoghan von den Sarrazenen
Zeno von der Oelmühle
Quite Good von der Oelmühle
Connacht of Brabyns
Shamrock Erotic-Eileen
Solstrand Lady Grey
Solstrand San Antonio of Edeyrn
Solstrand Barcarolle
Faye von den Eichelwiesen
Solstrand Barcarolle
Erindale Lorimar
Ard Ri Boogie
Ard Ri Beaulah
Eaglescrag Fingal
Erindale Sadie
Norrigu von den Eichelwiesen
Drummond von den Eichelwiesen
Ard Ri Aloha
Erindale Lorimar
Erindale Kelly of Sunningdale
Ard Ri Beaulah
Eaglescrag Fingal
Erindale Sadie
Cathleen von den Eichelwiesen
Shamrock Eery-Exorcist
Shamrock Amoral-Abbot
Eaglescrag Barley
Amity of Cochara
Erindale Nolan
Onix vom Hause Geco
Ch. International - Luxembourg
Lorbas von den Sarrazenen x Sharon von den Sarrazenen
07.11.1996
2 M - 5 F
Tenzo of Kirld Ground Castle
Tristan of Kirld Ground Castle
................................................................
Thara of Kirld Ground Castle
Thea of Kirld Ground Castle
Tiffany of Kirld Ground Castle
Tischka of Kirld Ground Castle
Tjill of Kirld Ground Castle
Teddy of Kirld Ground Castle x Sharon von den Sarrazenen
12.06.1998
3 M - 5 F
Vicomte Sam of Kirld Ground Castle
Vincent of Kirld Ground Castle
Volko of Kirld Ground Castle
................................................................
Valse d'Odysée of Kirld Ground Castle
Vasca of Kirld Ground Castle
Véronique of Kirld Ground Castle
Victoire d'Athena of Kirld Ground Castle
Vrena of Kirld Ground Castle
Teddy of Kirld Ground Castle x Sharon von den Sarrazenen
17.07.1999
6 M - 2 F
War Lord of Kirld Ground Castle
Wild Killian of Kirld Ground Castle
Willow of Kirld Ground Castle
Wiltz Pat of Kirld Ground Castle
Wind of Kirld Ground Castle
Winning Son of Kirld Ground Castle
................................................................
White Phoebee of Kirld Ground Castle
Wild Flower of Kirld Ground Castle
---
Duerfstrooss 40 • L-9759 Knaphoscheid • Grand-Duché de Luxembourg
Tel. 00 352 92 15 37 • Fax 00 352 26 91 33 53 • email
---