princess sammy of kirld ground castle
Pedigree - Title(s) * Litter(s)
Princess Sammy, I always wanted to have a dog called Sammy. But 1992 in Luxembourg was the year of « P » for all pedigree names. So, as I had chosen Kirld Ground Castle as Kennel name, I thought that in a castle there must be a princess.
May I present you my first home bred girl.
Out of a litter of five, she was the one with this so special colour just like her mother.
She was also the one always with her mummy and tried very early to imitate Day.
She was a very special dog for me.
So I wanted her to be the best. She went to school, took her certificate, won even an agility cup all breeds, was shown as a puppy and was very promising. She also was shown in Youth class and got the Luxembourg Youth Champion. It was a real pleasure to travel along with her.
We went to Germany and she got two German titles, V.D.H. and D.W.Z.R.V. she also was Top Hound in Germany. We also went to Portugal and there she got the European champion title. She was shown in Belgium and Luxembourg, got the Luxembourg Champion and the international.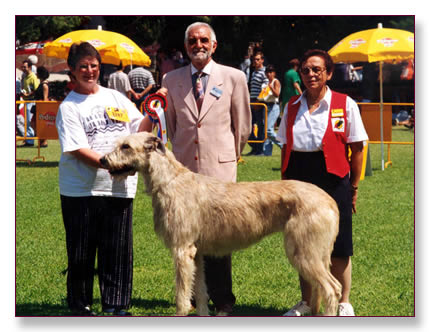 When I decided to breed her, I had one special stud in my head, we tried two times, but she never got puppies from Juster von den Sarrazenen. So finally I decided to go to Lorbas von den Sarrazenen, and this time was the right one, but she only gave us one puppy one boy Teddy.
As a veteran she was BIS at 9 years. Sammy was nearly ten year when she died.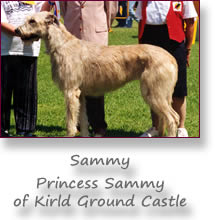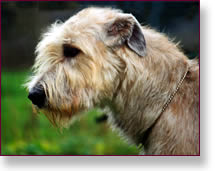 Pedigree

Princess Sammy of Kirld Ground Castle

03.05.1992 - 10.06.2001

Nash from the Good Heath
Oelmühle Anton
Solstrand Kaspar
Marumac Charlock
Kellybourne Ice Rocket
Wistle von der Oelmühle
Gentle Giants Conar Mac Nessa
Inisfail's Attractive Alexandra
Karla from the Good Heath
Ezechiele del Solengo
Duncan del Solengo
Belinda del Solengo
Erindale Lady Bruge
Mistigo Orion
Erindale Melody Queen
Daireen von den Sarrazenen
Zeno von der Oelmühle
Quite Good von der Oelmühle
Connacht of Brabyns
Shamrock Erotic-Eileen
Solstrand Lady Grey
Solstrand San Antonio of Edeyrn
Solstrand Barcarolle
Norrigu von den Eichelwiesen
Drummond von den Eichelwiesen
Ard Ri Aloha
Ard Ri Beaulah
Cathleen von den Eichelwiesen
Shamrock Eery-Exorcist
Amity of Cochara
Ch. International - Luxembourg - V.D.H. - D.W.Z.R.V. - European - Lux. Junior
Lorbas von den Sarrazenen x Princess Sammy of Kirld Ground Castle
05.09.1996
1 M
Teddy of Kirld Ground Castle
---
Duerfstrooss 40 • L-9759 Knaphoscheid • Grand-Duché de Luxembourg
Tel. 00 352 92 15 37 • Fax 00 352 26 91 33 53 • email
---