daireen von den sarrazenen
Pedigree - Title(s) - Litter(s)
Long long time ago, more than 27 years I stepped over this picture in a garden magazine. This hound was for me THE one I wanted to have. Used to Shepherds since I was born I wanted my own dog.
I started looking for indications on the breed, collected articles, looked for breeders bought books... many books.
Once Tony Doyle was at my house and he said:
Oh, you have them all!
I really collected everything I could find on the breed.
Than, three years later I thought being able to look for a puppy.
And that is how it all began.
Here you may see how small the world is. Who could have known that there will be a relation between the picture of the magazine and my first Irish Wolfhound.
The picture in the magazine shows Zeno von der Oelmühle and his owner Jürgen Rösner and the father of my puppy also is Zeno von der Oelmühle.
Still some time to go until I finaly got a puppy.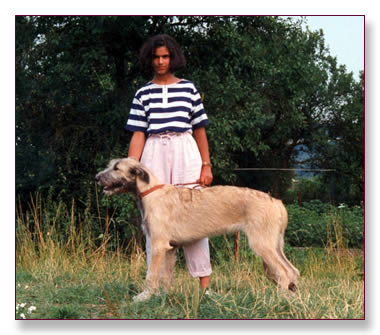 On the second of May 1989 my little girl was born.
Her parents: Norrigu von den Eichelwiesen & Zeno von der Oelmühle.
I was very proud to get a baby of this outstanding litter.
Two months later we brought her home. And this is how it all began.
Daireen von den Sarrazenen - Day - was the foundation bitch of my Kennel « of Kirld Ground Castle ».
She travelled with me all over Europe.
She was shown as well in Portugal, France, Germany, Switzerland than in Belgium, where she met her father at Brussels dog show.
Day became Luxembourg, German and international champion.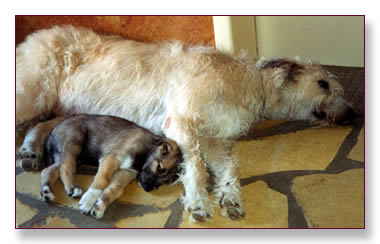 We then decided to breed her and were looking for an outstanding male for this so special bitch.
Finaly we have chosen Nash from the Good Heath.
Day gave us 5 beautiful puppies: Pacco and Percy, two boys and Princess Sammy, P'Djumai, Petzi, three girls.
Well, if you are interested, you may follow what happened since 1992 here...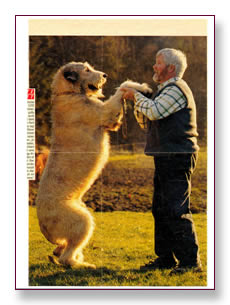 Pedigree

Daireen von den Sarrazenen

02.05.1989 - 21.02.1993

Zeno von der Oelmühle
Quite Good von der Oelmühle
Connacht of Brabyns
Brabyns Donaghadee
Flashynnes Miranda
Shamrock Erotic-Eileen
Shamrock Amoral-Abbot
Eaglescrag Barley
Solstrand Lady Grey
Solstrand San Antonio of Edeyrn
Edeyrn Mogul
Gerdin's Kerry of Heart G
Solstrand Barcarolle
Eaglescrag Lysander
Royden Coleen of Solstrand
Norrigu von den Eichelwiesen
Drummond von den Eichelwiesen
Ard Ri Aloha
Erindale Lorimar
Erindale Kelly of Sunningdale
Ard Ri Beaulah
Eaglescrag Fingal
Erindale Sadie
Cathleen von den Eichelwiesen
Shamrock Eery-Exorcist
Shamrock Amoral-Abbot
Eaglescrag Barley
Amity of Cochara
Erindale Nolan
Onix vom Hause Geco
Ch. International - Luxembourg - Germany
Nash from the Good Heath x Daireen von den Sarrazenen
03.05.1992
2 M - 3 F
Pacco of Kirld Ground Castle
Percy of Kirld Ground Castle
................................................................
Princess Sammy of Kirld Ground Castle
P'Djumai of Kirld Ground Castle
Petzi of Kirld Ground Castle

---
Duerfstrooss 40 • L-9759 Knaphoscheid • Grand-Duché de Luxembourg
Tel. 00 352 92 15 37 • Fax 00 352 26 91 33 53 • email
---