cedric of kirld ground castle
Cedric was the last one of 7 puppies and for him we had to make a c-section as he refused to come in this world. He was a very little puppy but a warrior.
He went to Germany to a young couple and was just supposed to be their pet.
But when I saw him after half a year, I knew that he was much more than just a pet. It was a hard job to convince his owners to show him, but finally they agreed.
Cedric was shown several times, but just like his owners did not really like shows.
We decided to breed him to Lynn and this was a big success, both gave us wonderful puppies.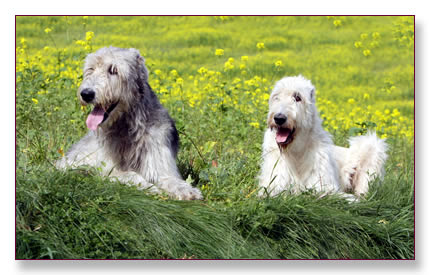 Pedigree

Cedric of Kirld Ground Castle

01.07.2005 - 19.08.2011

Belzebuth of Our Valley
Maol-Cu Lancelot of Cùroí
Cùroí Jazz
Quincy of Kilmara
Geasa's Kaeliy
Maol-Cu Grey Genesis
Gentle Giants Waggery Bill
Ard Ri Candy
Maol-Cu Only You
Cùroí Armani
Calorien Rubens Fionn of Eagle
Cùroí Karlik
Maol-Cu Jessreed
Wolf Tone John Foggerty
Ard Ri Ella
Erinn von Wilar
Hold The Line Sagittarius
Neverton Sagittarius
Cleaseac Carusso
Iris vom Fränkischen Hof
Ulvsholms Kenna
Ulvsholms Florican Worthy
Ulvsholms Yaeltacht
Chevy von Wilar
Lorbas von den Sarrazenen
Demian von den Sarrazenen
Aoibhell von den Sarrazenen
Alina von Wilar
Juster von den Sarrazenen
Nena von der Oelmühle
Cedric of Kirld Ground Castle x Eleanor of Our Valley
07.01.2009
4 M - 5 F
G'Aiko of Kirld Ground Castle
Gidran of Kirld Ground Castle
Gillighan of Kirld Ground Castle
Gordon of Kirld Ground Castle
................................................................
Gabriela of Kirld Ground Castle
Gael of Kirld Ground Castle
Gaetane of Kirld Ground Castle
Gafa of Kirld Ground Castle
Glynis Pearl of Kirld Ground Castle
Cedric of Kirld Ground Castle x Eleanor of Our Valley
15.04.2011
4 F
Ibanshee of Kirld Ground Castle
Iona of Kirld Ground Castle
Irish Dream of Kirld Ground Castle
Irlande of Kirld Ground Castle
Cedric of Kirld Ground Castle x Egérane des Coeurs de Lune
07.10.2011
2 M - 1 F
Greedy des Coeurs de Lune
Gurun des Coeurs de Lune
................................................................
Guerandine des Coeurs de Lune
---
Duerfstrooss 40 • L-9759 Knaphoscheid • Grand-Duché de Luxembourg
Tel. 00 352 92 15 37 • Fax 00 352 26 91 33 53 • email
---