eleanor of our valley
Pedigree - Title(s) * Litter(s)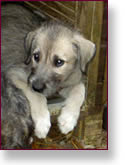 This picture was the beginning of our wonderful love story. When I went for the first time to see the puppies, it was Lynn sitting in the door and looking at us.
Among her brother and sisters she was the outstanding girl, coming, looking, playing. Each time we went to Brussels, it was her coming to great us first.
When she came home, Kira was her second mummy, always with her for sleeping, and when she needed to be secured.
Erinn was the playmate and so did the Airedales.
Lynn became a beautiful bitch. As she hated shows we just did the very necessary, but she managed to become Luxembourg and Belgian champion. She still needs one award for the international champion, but we decided to respect her wish not to be shown anymore.
Lynn has a very sound strong character and slowly she settled among our hounds, grown up she became their leader.
Lynn gave us three litters.
The first one, out of Cedric of Kirld Ground Castle: 9 puppies.
Four boys: G'Aiko, Gidran, Gillighan, Gordon.
Five girls: Gabriela, Gael, Gaetane, Gaffa and Glynis Pearl.
The second one, out of William of Nutstown: 6 puppies.
Three boys: Heaven, Heartbreaker and Howard Hughes.
Three girls: Hazel, Haily and Heavens Joy.
The third one, again out of Cedric of Kirld Ground Castle.
Four girls: Ibanshee, Iona, Irish Dream and Irlande.
Now with her six years my Lady retired from breeding, but remains the leader of the Kirld Ground Pack and is always happy to see her children and friends.
She has a new job now, she is the model for Lisa who will be physiotherapist for animals and she seems to like it a lot.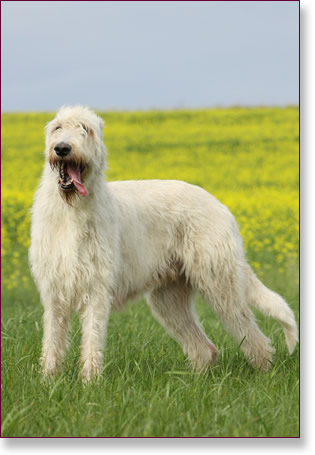 Pedigree

Eleanor of Our Valley

16.09.2005 - 16.04.2016

Bexter vom Arsbecker Hof
Carlo von Wilar
Lorbas von den Sarrazenen
Demian von den Sarrazenen
Aoibhell von den Sarrazenen
Alina von Wilar
Juster von den Sarrazenen
Nena von der Oelmühle
Antea vom Arsbecker Hof
Calorien Rubens Fionn of Eagle
Calorien Fer Cian of Eagle
Calorien Renoire of Eagle
Brilliant von der Oelmühle
Wolf Tone John Foggerty
Bridgedown Chantilly Lace of Oelmühle
Cohiba of Our Valley
Brokenwheel Uracil
Wolf's Touch Angus
Brokenwheel Cirmo
Fitzarran Bodieve
Edrina von der Oelmühle
Olov von der Oelmühle
Oona von der Oelmühle
Maol-Cu Only You
Edrina von der Oelmühle
Calorien Rubens Fionn of Eagle
Cùroí Karlik
Maol-Cu Jessreed
Wolf Tone John Foggerty
Ard Ri Ella
Ch. Belgium - Luxembourg
Ch. Luxembourg Veteran
Cedric of Kirld Ground Castle x Eleanor of Our Valley
07.01.2009
4 M - 5 F
G'Aiko of Kirld Ground Castle
Gidran of Kirld Ground Castle
Gillighan of Kirld Ground Castle
Gordon of Kirld Ground Castle
................................................................
Gabriela of Kirld Ground Castle
Gael of Kirld Ground Castle
Gaetane of Kirld Ground Castle
Gafa of Kirld Ground Castle
Glynis Pearl of Kirld Ground Castle
William of Nutstown x Eleanor of Our Valley
28.03.2010
3 M - 3 F
Heartbreaker of Kirld Ground Castle
Heaven of Kirld Ground Castle
Howard Hughes of Kirld Ground Castle
................................................................
Haily of Kirld Ground Castle
Hazel of Kirld Ground Castle
Heavens Joy of Kirld Ground Castle

Cedric of Kirld Ground Castle x Eleanor of Our Valley
15.04.2011
4 F
Ibanshee of Kirld Ground Castle
Iona of Kirld Ground Castle
Irish Dream of Kirld Ground Castle
Irlande of Kirld Ground Castle
---
Duerfstrooss 40 • L-9759 Knaphoscheid • Grand-Duché de Luxembourg
Tel. 00 352 92 15 37 • Fax 00 352 26 91 33 53 • email
---