killykeen miriam
Pedigree - Title(s) * Litter(s)
Time had come to introduce a new line in my pedigrees. So I decided to go to Ireland and have a bitch of Tony Doyle's Kennel.
And here comes Kira.
Like all the hounds of the Killykeen Kennel Kira had a very strong character.
We tried to show her several times, but Kira hated shows.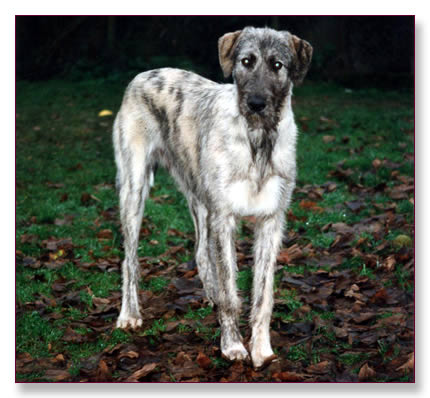 Though she always got excellent, the only time she won at a show was in veteran class.
We wanted to get puppies out of Vicomte Sam and Kira, and tried several times, but it always failed, so finally she was mated to Dathyaro von Wilar and gave us one litter with three puppies.
Pedigree

Killykeen Miriam

08.03.1999 - 12.08.2007

Killykeen Thunder
Killykeen Lord of The Isles
Edeyrn Henri of Killykeen
Clonara Klint
Mapleton Snow Queen of Edeyrn
Killykeen Lucy
Killykeen Lancer
Killykeen Melba
Owenmore Kittiwake
Killykeen Max
Edeyrn Henri of Killykeen
Killykeen Jermyma
Owenmore Ciara
Owenmore Finn MacCool
Owenmore Cinniuint
Killykeen Olive
Owenmore Kingfisher
Killykeen Max
Edeyrn Henri of Killykeen
Killykeen Jermyma
Owenmore Ciara
Owenmore Finn MacCool
Owenmore Cinniuint
Killykeen Brigadoon
Newtownhill Beowalt
Killykeen Ian Lyons
Killykeen Banshee of Newtownhill
Killykeen Jermyma
Killykeen Mars
Killykeen Melba
Landesjugendsieger Baden-Kurpfalz
Dathyaro von Wilar x Killykeen Miriam
08.07.2002
1 M - 2 F
Zoltan of Kirld Ground Castle
................................................................
Zahra of Kirld Ground Castle
Zamora of Kirld Ground Castle
---
Duerfstrooss 40 • L-9759 Knaphoscheid • Grand-Duché de Luxembourg
Tel. 00 352 92 15 37 • Fax 00 352 26 91 33 53 • email
---