oslo from graham's ark
Pedigree - Title(s) * Litter(s)
Now we want to introduce « Ozzy ».
He was born 18.04.2015, the smallest puppy of the litter.

Right from the beginning there was something special about him. He never did what the others did, always had his own opinion.
But he always had a kind of affection for me, as if he wanted to show me that he was MY dog.

When people came to see the pups, Ozzy was always hiding somewhere as if he did not want to go to another home.
When he grew older I saw that he had a very special character... strong but very sensible too... a « good » dog. While walking, he never left us, rarely went to run with the others. Seeing the bond between Ozzy and me, Philippe, his breeder, offered me to keep Ozzy for me.
I could not take him in my little house, so I was hesitating until our friends Christian Chardonnet and Alain Verrier, wo had his sister Oughtiv, offered me to take him home with Oughtiv until I had found a better house. I'll never thank then enough for the good home they gave him for a few month.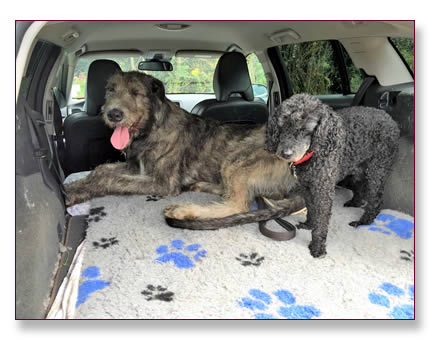 In spring we decided to close the garden and take Ozzy home. To keep him company Christian and Alain also gave me little Ticky, who is now « the boss ».
Ozzy started his show career at the N.E. in France where he was best junior male
After that he won the Championnat de France in Metz, was Ex1 in junior class in Douai and with that already had 2 qualifications for Crufts.
Still in junior class, at only 15 months Ozzy was BOB at the Golden Dog Trophy in Liège and some weeks ago BOB at the dog show in Polleur.
At 16 months he entered the FCI Euro Sighthound show and the European Dog Show in Brussels.
On both days he was placed Ex1 in junior class and so is now FCI Euro Junior Sighthound Winner 2016 and European Junior Winner 2016.
He will enter one last show in Junior class at the international show in Luxembourg and after that start his career in the adults' world.
Good luck little Ozzy!
Pedigree

Oslo from Graham's Ark

18.04.2015

Iony du Cerbat
Castlekeep's Alphard
Wolfhaven Calorien
Fou Noir
Curiann RQ Home To Wolfhaven
Wolfhaven Don't Go Breakn My Heart
Castlekeep's Heavenly Freesoul
Wolfhaven Soul Man
Glor Na Gael Saoirse Castlekeep
Estella d'Harcourt
Tyson von der Oelmühle
Erinwood Rushmore
Pitlochry's Sophia
Alegria Of Muma
Faon De Castillviejo
Shade Dou Loubet Di Tres Pounchoun
Irresistible Iroise
du Grand Chien de Culann
Justintime Of First Avenue
Pitlochry's Catweazle
Celtic Myst Bryan
Pitlochry's Thriss
Emerald Of First Avenue
Quincy Of Kilmara
Rathkeale's Jewel
Five
du Grand Chien De Culann
Inishmaan Charles
Fortune Race Iron
Inishmaan Bo
Baltique
du Grand Chien De Culann
Unesco
du Grand Chien De Culann
Vega
du Clos Du Pré Bévon
---
Duerfstrooss 40 • L-9759 Knaphoscheid • Grand-Duché de Luxembourg
Tel. 00 352 92 15 37 • Fax 00 352 26 91 33 53 • email
---