howard hughes of kirld ground castle
Pedigree - Title(s) * Litter(s)
Text courtesy Elsa Paulian, owner Howard & J.K. Rowlings OKGC
Between my sweet Howard and I, it was simply Love at First Sight!

Although his breeder insisted for me not to choose my puppy to hastily because she knew I had plans to show my boy. I immediately felt that this calm, delicate, gentle, respectful baby was the Wolfhound of my life.

Howard's nickname in the litter was « The Calm One ». Nevertheless, he was and still his a playful and very curious gentleman. Howard loves everybody, humans or animals (he once tried to save a mouse from a trap). And he is a true peace keeper able to stop a dog fight by his simple presence. He has a very special relation with his breeder. As soon as he hears Monette's voice he runs to her and starts « talking » to her.
Being in a show ring is not his passion but he does the job very well. Together we learned handling, traveled all around Europe (from Ireland to Germany and as far as Gibraltar) and became champions. Howard made me cry of happiness more than once. Our most precious memories in a ring? Being Best of Group in Gibraltar and a 2nd place at Crufts.
Howard's favorite moments are at home with his dog friends, especially with his great love JK Rowling of Kirld Ground Castle. He loves running in the countryside, the woods, the beach, everywhere we travel for vacation.
My boy is not a baby anymore, he now is a proud father of very promising puppies. Future is comming!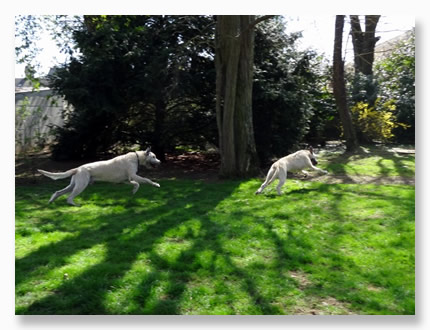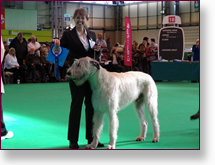 William of Nutstown
King Huzzar of Nutstown
The Black Night of Nutstown
Saringa's Mr Magwitch of Nutstown
Eileen Og
Macushla of Nutstown
Fingal of Nutstown
Aoife of Nutstown
Meadhbh of Nutstown
Marshgrove King of Nutstown
Fingal of Nutstown
Lisnagry Elvin
Cashia of Nutstown
Capitan of Shantamon
Lady Patricia of Nutstown
Eleanor of our Valley
Bexter vom Arsbecker Hof
Carlo von Wilar
Lorbas von den Sarrazenen
Alina von Wilar
Antea vom Arsbecker Hof
Calorien Rubens Fionn of Eagle
Brilliant von der Oelmühle
Cohiba of Our Valley
Brokenwheel Uracil
Wolf's Touch Angus
Edrina von der Oelmühle
Maol-Cu Only You
Cùroí Armani
Maol-Cu Jessreed
---
Duerfstrooss 40 • L-9759 Knaphoscheid • Grand-Duché de Luxembourg
Tel. 00 352 92 15 37 • Fax 00 352 26 91 33 53 • email
---